For a long period of time, up to 1997, company had its departments in several regions of Russia such as Moscow, Orenburg, Chelyabinsk, Perm, Sverdlovsk oblasts and the Republic of Bashkortostan.
One of the crucial stages of formation of the company and its methods of production and management was participation in a project of construction of suspension bridge over river Irtysh in Semipalatinsk (1999-2001), where a well-known Japanese company "IHI" acted as a general contractor.
Those were the first steps of our company to achieve internationally ranked construction quality.
While developing modern technologies, a fundamental soviet engineering school played a great role. Also, in order to successfully fulfill complicated projects, we had to meet the need in modern road-construction machinery made in Germany, USA and other countries.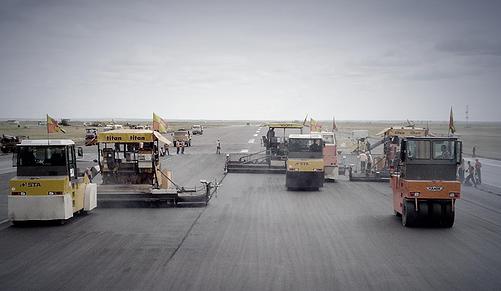 The next step in strength test of our company was a participation in reconstruction of a flight strip in the international airport of Astana, where we acted as a general contractor. In the process of reconstruction, several new technologies such as application of polymer asphalt additives like "Kraton" and reinforcement of the pavement with geogrid were used. The uniqueness of the project was made by the fact that construction works were being started at 8 o'clock in the morning, while after 9 in the evening regular flights took place.
In 2004-2005, a reconstruction of flight strip in the international airport of Aktobe was performed by our company. Here we used concrete slabs PAG-18 and 14 as a basic material. The site had specific conditions and the use of the airfield wa stopped for 72 days. All the works have been performed timely.

In 2008-2010, a reconstruction of Korkyt-Ata airport in Kyzylorda town was performed by our company.
In 2010-2013, a reconstruction of the "Border of SKO – Taraz" highway took place, where our company placed concrete pavement on section of km 536-593.

In 2012-2013, we began working on the project of reconstruction of "Almaty – Ust-Kamenogorsk" highway at section of km 118-213.