Over the years, until 1997, the enterprise worked and had its own units in several regions of Russia, in particular in Moscow, Orenburg, Chelyabinsk, Perm, Sverdlovsk regions, as well as in the Republic of Bashkortostan.
One of the decisive stages in the formation of the team, in new approaches to the management of the company and the technology for construction of pavements was participation in the implementation of the project for construction of a hanging bridge over river Irtysh in Semipalatinsk (1999-2001), where the well-known Japanese company "IHI" acted as general contractor.
These were the first steps of the company in construction under international standards.
The fundamental Soviet engineering school played a key role in the development of new technologies . In the process of project implementation, the need has arisen for acquisition of modern road-building equipment from leading companies in Germany, the USA and other countries of far abroad.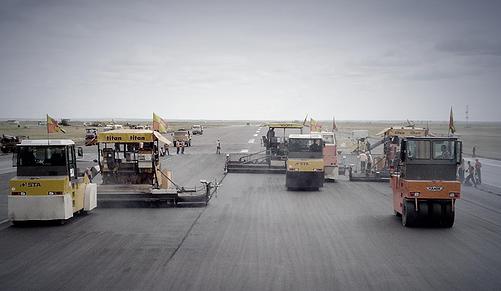 The next step in testing the strength of the team was participation in the reconstruction of the runway, taxiways and apron of Astana International Airport, where the enterprise acted as the general contractor. In the reconstruction process, some innovations were used, such as the use of Kraton polymer additives in production of asphalt mixes, and the reinforcement of asphalt concrete with a geogrid. The uniqueness of the project was that all the reconstruction of the runway was completed without stopping the flight operation of the airport. Work began at 8:00 a.m., and regular flights were made after 9:00 p.m.
In 2004-2005 runway, taxiway and apron of Aktobe International Airport were reconstructed. During the reconstruction of this object, reinforced concrete airfield slabs PAG-18 and PAG-14 were used. There were already other conditions at this object, so the runway was stopped for exactly 72 days. All work was completed on time.
In 2006-2007 reconstruction of the airdrome at the airport of Shymkent, where PAG-18 and PAG-14 airfield slabs were also used.
In 2006-2009 the section of km 7-57.4 of the Astana-Petropavlovsk highway through Kokshetau with six-lane traffic was reconstructed, where for the first time in Kazakhstan we applied cement paving technology.

In 2008-2010 reconstruction of the airfield at the airport "Korkyt Ata", Kyzylorda.
In 2010-2012. reconstruction of the airfield at the airport of Kokshetau, the republican highway "Astana – Petropavlovsk – the border of the Russian Federation, including bypasses of Kokshetau, Petropavlovsk" cities, sections of km 304.2-313 of the highway "Astana – Petropavlovsk via Kokshetau" and km 2.7 – 9 (PK 67 + 78) of highway "Kokshetau – Kishkenekol – border of the Russian Federation."
In 2010-2013, the reconstruction of the "SKO-Taraz border" section of the Western Europe – Western China transit corridor (section in the Zhambyl region) km 536-593 from cement concrete pavement.

In 2012-2013 reconstruction of airports in Taraz and Taldykurgan cities, Almaty-Ust-Kamenogorsk highway, km 118-259, at sections: 118-149,149-180,180-213, was started.
Our rewards